500-krone note - motifs
Size in mm: 152 x 75. Notes with annual figures from 2008 (printed abroad) have a letter in front of the serial number.
Obverse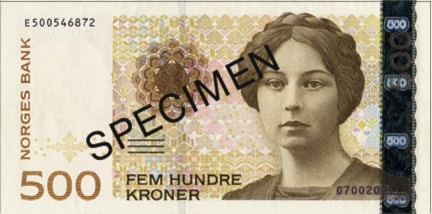 The motif is a portrait of Sigrid Undset as a young woman. The rosette on the left was inspired by one of her lace collars and encompasses a number of security features.
The background is based on Gudbrandsdal tapestries, in particular a pattern where the cross figures prominently. The watermark area contains a double cross.
Designed by graphic designer Sverre Morken.
Reverse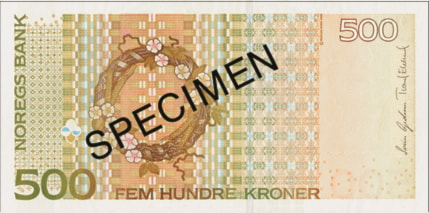 "The Bridal Wreath" is the title of the first book in Undset's trilogy about Kristin Lavransdatter. The author used the wreath to symbolise secular and spiritual love. A tapestry pattern from Gudbrandsdalen provides the background for the wreath.
Designed by graphic designer Arild Yttri.