Gustav Vigeland. Special edition 20-krone circulation coin (2019)
Gustav Vigeland was born on 11 April 1869. To commemorate the 150th anniversary of Vigeland's birth, Norges Bank issued a special edition 20-krone circulation coin on 10 April 2019. The coin is legal tender and is issued at face value.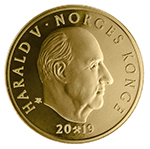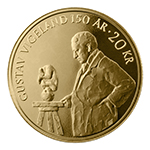 Norges Bank invited five artists to participate in a competition to design the anniversary motif on the reverse of the coin. Håkon Anton Fagerås won the competition with the motif "At Work". The motif is an imagined scene depicting the sculptor's modelling process.
Norges Bank collaborated with the Vigeland Museum on the commemorative coin issue.
Design and technical specifications:
Diameter: 27.5 mm
Thickness: 2.2 mm
Weight: 9.9 g
Alloy: 81 % Cu, 10 % Zn, 9 % Ni
Edge: Plain
Obverse (head side):
The obverse features a portrait of HM King Harald V facing right. Around the portrait: HARALD V NORGES KONGE. At the lower left edge of the portrait, the artist's signature: IAR. Below the portrait: the year 2019 with the Mint of Norway's mintmark, the crossed-pick-and-hammer.
The coin's obverse was designed by Ingrid Austlid Rise, designer at the Mint of Norway.
Reverse (tails side):
The coin's motif depicts Gustav Vigeland by his stand while contemplating the sculpture "The Foetus". Inscribed on the coin is the text: "GUSTAV VIGELAND 150 ÅR" (Gustav Vigeland 150 years) and the coin's denomination (20 KR). The signature of the artist (HAF) is located below right on the coin's surface.
The coin's reverse was designed by the artist Håkon Anton Fagerås.
Standard-design 20-krone coins will not be issued in 2019.