150th anniversary of the Norwegian trekking association, 20-krone commemorative coin 2018
The year 2018 marks the 150th anniversary of the Norwegian Trekking Association (DNT). To commemorate this important milestone, Norges Bank issued a 20-krone special edition circulation coin on 19 January 2018. The coin is legal tender and is issued at face value.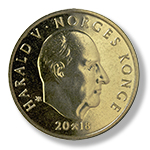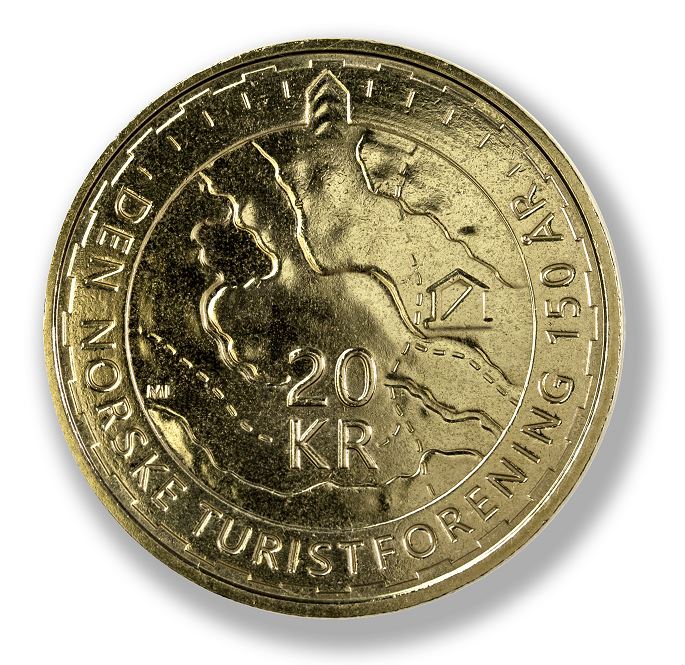 Founded on 21 January 1868 by Thomas Heftye, DNT is Norway's largest outdoor activities organisation, a non-profit and politically independent organisation and an association of trekking associations and tour clubs across the country. Today, the organisation has approximately 300 000 members of all ages, and its main aim is to encourage as many people as possible to enjoy the pleasures of the outdoors. Nature conservation and the preservation of the cultural landscape play a key role in the organisation's activities.
Norges Bank invited five artists to participate in a competition to design the anniversary motif on the reverse of the coin. Martine Linge won the competition with the motif, "Map and Compass". The motif illustrates both the opportunities and tools for active participation in outdoor activities, symbolising DNT's work to promote enjoyment of the outdoors.
Norges Bank collaborated with DNT on the commemorative coin issue.
Design and technical specifications:
Diameter: 27.5 mm
Thickness: 2.2 mm
Weight: 9.9 g
Alloy: 81% Cu, 10% Zn, 9% Ni
Edge: Plain
Obverse (head side):
The obverse features a portrait of HM King Harald V facing right. Around the portrait: HARALD V NORGES KONGE. At the lower left edge of the portrait, the artist's signature: IAR. Below the portrait: the year 2018 with the Mint of Norway's mintmark, the crossed-pick-and-hammer.
The coin's obverse was designed by Ingrid Austlid Rise, designer at the Mint of Norway.
Reverse (tails side):
The coin's anniversary motif, "Map and Compass" depicts a hiking map with a lake, river, trails and the symbol for a self-service cabin, surrounded by the bezel ring of a compass. The motif depicts a compass in use. The coin's denomination (20 KR) is inscribed vertically just below the centre. The text "DEN NORSKE TURISTFORENING 150 ÅR" (The Norwegian Trekking Association 150 years) appears on the bezel ring of the compass, and the signature of the artist (ML) is located on the coin's surface to the left.
The coin's reverse was designed by the artist Martine Linge.
Standard-design 20-krone coins will not be issued in 2018.