Henrik Wergeland, 10-krone commemorative coin
Norges Bank issued a 10-krone special edition circulation coin on 17 June 2008 to mark the 200th anniversary of the birth of Henrik Wergeland. The coin is legal tender and was issued at face value.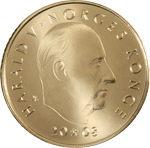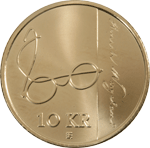 Henrik Wergeland was commemorated primarily because he was one of Norway's greatest poets, and also because he was engaged in the social and political issues that later topped international agendas. As an opponent of oppression in a society that ranked people by social status, he fought for equality and tolerance.
Technical specifications:
Diameter: 24.0 mm
Thickness: 2.0 mm
Weight: 6.8 g
Alloy: 81% Cu, 10% Zn, 9% Ni
Edge: Alternate plain/milled
Design:
Obverse (heads side):
The obverse features a portrait of H. M. King Harald V facing right. Around the portrait: HARALD V. NORGES KONGE. At the lower left edge of the portrait, the artist's signature: IAR. Below the portrait: the year 2008 with the Mint of Norway's mintmark, the crossed pick and hammer, in the centre.
Reverse (tails side):
The motif shows Henrik Wergeland's characteristic glasses and signature. The folded glasses symbolise the past and a completion, as does the signature. The glasses may also be read as "200", providing a link to the anniversary itself. The surface of the coin is divided into two sections, one of which is designed to suggest a billowing sheet of paper. Under the glasses: 10 with KR immediately following the denomination. Bottom: the artist's signature: EF.
The coin's obverse was designed by Ingrid Austlid Rise, Det Norske Myntverket AS (Mint of Norway). The reverse was designed by Enzo Finger. The coin was put into circulation 17 June 2008. 10-krone coins in the standard design were also produced in 2008.