Universal suffrage, 10-krone commemorative coin for 2013
In 1913, the Norwegian parliament introduced universal suffrage. To mark the 100th anniversary of this event, Norges Bank issued a special edition circulation coin on 8 March 2013. The coin is legal tender and was issued at nominal value.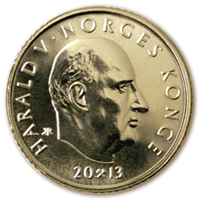 11 June 2013 marked 100 years since Norwegian women were granted full suffrage on an equal footing with men. Norway was among the first countries in the world to introduce universal suffrage for both women and men. Universal suffrage took many years to achieve and generated wide debate among both supporters and opponents.
In 2009, the Government decided that the Suffrage Centenary 1913-2013 would be celebrated locally, nationally and internationally, and appointed the Suffrage Centenary Committee to organise the official programme. The Committee's goal was a celebration that inspired involvement in and support for important aspects of democracy in Norway, such as the right to vote, equality, representation and participation.
Design and technical specifications
Diameter: 24.0 mm
Thickness: 2.0 mm
Weight: 6.8 g
Alloy: 81% Cu, 10% Zn, 9% Ni
Edge: Alternate plain/milled
Obverse (heads side):
The obverse features a portrait of H.M. King Harald V facing right. Around the portrait: HARALD V NORGES KONGE. At the lower left edge of the portrait, the artist's signature: IAR. Below the portrait, the year 2013 with Det Norske Myntverkets (Mint of Norway's) mintmark, the crossed pick and hammer.
The coin's obverse was designed by Ingrid Austlid Rise, designer at Det Norske Myntverket AS (Mint of Norway).
Reverse (tails side):
The motto of the motif on the coin's reverse is "Joining forces". The surface is divided by a diagonal axis slightly to the right of centre. The left half of the coin features four female figures with their arms outstretched pushing against the edge of a surface covering the rest of the coin, representing the massive object that the women are endeavouring to move. This symbolises the protracted, difficult struggle to achieve universal suffrage for women. The right half of the coin also features the coin's denomination (10 KR) and the text STEMMERETTSJUBILEET (Suffrage Centenary) 1913-2013.
The reverse was created by the illustrator and graphic designer Siri Dokken.
10-krone coins in the standard design were not issued in 2013.