The Norwegian railway, 20-krone commemorative coin 2004
To mark the 150th anniversary of the first railway in Norway, Norges Bank issued a 20-krone special edition circulation coin on 1 June 2004. The coin is legal tender and was issued at face value.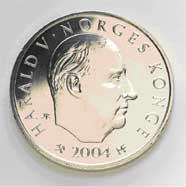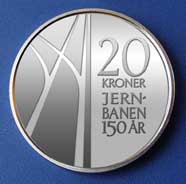 The first official train travelled on Norway's Trunk Line from Christiania to Eidsvoll in 1854. The opening of the Trunk Line fifty years before the first automobiles appeared on Norwegian roads became the beginning of a Norwegian transport sector revolution.
Technical specifications
Diameter: 27.5 mm
Thickness: 2.2 mm
Weight: 9.9 g
Alloy: 81% Cu, 10% Zn, 9% Ni
Edge: Plain
Design:
Obverse (heads side):
The obverse features a portrait of H.M. King Harald V facing right. Around the portrait: HARALD V. NORGES KONGE (King of Norway). To the left are the initials of the artist, IAR. To the left under the portrait is the date 2004 and Det Norske Myntverket's (Mint of Norway) mintmark, the crossed pick and hammer. To the right are the initials of the Director of the Mint, Magne Flågan.
Reverse (tails side):
The reverse of the coin shows a railway junction. Railway tracks are a timeless symbol of railway services. To the right of the tracks: 20 KRONER and JERN-BANEN 150 ÅR below.
The coin was designed by Ingrid Austlid Rise, a designer at Det Norske Myntverket AS (Mint of Norway). No 20-krone coins in the standard design were minted bearing the date 2004.