Supreme Court bicentenary, 20-krone commemorative coin 2015
The year 2015 will mark the bicentenary of the inception of the Supreme Court of Norway. To commemorate this important event in Norwegian constitutional history, Norges Bank is issuing a 20-krone special edition circulation coin on 7 May 2015. The coin is legal tender and will be issued at face value.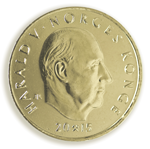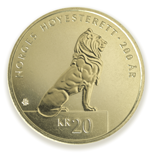 The Constitution of 1814 gave Norway its own Supreme Court. Previously, Norway and Denmark had a common Supreme Court, which sat in Copenhagen. The Supreme Court of Norway began hearing cases in 1815, with the first case brought on 30 June of that year.
According to Article 88 of the Constitution, "The Supreme Court pronounces judgment in the final instance". The Supreme Court is thus the highest court in Norway, with jurisdiction over the entire country. The Supreme Court hears both civil and criminal cases and has authority in all areas of law. The primary task of the Supreme Court is to unify, clarify and develop the law. This entails a focus on questions of legal principle, where the quality of the Court's work is paramount.
After years of meeting in various locations, the Supreme Court of Norway moved into the Justice Building in Oslo in 1903. After a number of restorations, the building is now a modern court building that has retained its original character. In 1996, Supreme Court became the sole occupant, and the building was renamed the Supreme Court building and given the address Høyesteretts plass 1. Today, the Supreme Court building is the symbol of the judicial system – the third branch of government.
Norges Bank has collaborated with the Supreme Court on the commemorative coin issue.
Design and technical specifications
Diameter: 27.5 mmT
Thickness: 2.2 mm
Weight: 9.9 g
Alloy: 81% Cu, 10% Zn, 9% Ni
Edge: Plain
Obverse (heads side):
The obverse features a portrait of H. M. King Harald V facing right. Around the portrait: HARALD V. NORGES KONGE. At the lower left edge of the portrait, the artist's signature: IAR. Below the portrait: the year 2015 with the Mint of Norway's mintmark, the crossed pick and hammer.
The coin's obverse was designed by Ingrid Austlid Rise, designer at the Mint of Norway.
Reverse (bakside):
The bicentenary motif is a reproduction of one of the two lion sculptures flanking the main stairway in the Supreme Court's entrance hall. The sculptures were modelled by Lars Utne (1862-1922) and cast in brass. The lion motif is also a recurring theme in the Supreme Court building. The coin's denomination (20 KR) is placed on the pedestal under the sculpture. Text: NORGES HØYESTERETT ∙ 200 ÅR (Supreme Court of Norway ∙ 200 years). The artist's signature (CHR) is placed to the lower left of the lion.
The motif on the reverse was designed by the painter and graphic designer Christopher Rådlund.
20-krone coins in the standard design will not be issued in 2015.