Norwegian Olympic and Paralympic Committee and Confederation of Sports. Special edition 200-krone silver coin 2011
The Norwegian Olympic and Paralympic Committee and Confederation of Sports (NIF) celebrated its 150th anniversary in 2011. To mark the occasion, Norges Bank issued a 200-krone silver coin on 8 January 2011.
NIF was founded on 15 March 1861 as Centralforeningen for Udbredelse af Legemsøvelser og Vaapenbrug and is Norway's largest volunteer organisation, with over 2 million members divided among nearly 12 000 sports clubs organised in 19 regional associations and 55 national federations.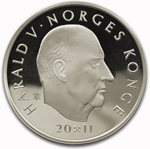 This silver coin has a nominal value of NOK 200 and was minted in an issue limited to 40 000 coins. The coin, which is proof quality and legal tender, was put into circulation on 8 January 2011.
Design and technical specifications
The coin was struck at Det Norske Myntverket (Mint of Norway) with the following specifications:
Diameter: 32 mm
Weight: 16.85 gr
Alloy: 925/1000 Ag (sterling silver)
Edge: Plain
The coin's reverse (tails) side was designed by Ina Viktoria Kristiansen at Uniform Strategisk Design. The coin's surface is divided into two horizontal sections. The lower section is slightly recessed and features slanted lines representing running tracks. The upper section features a frieze displaying athletes in various sports, with the inscription: NORSK IDRETT 150 ÅR. Below the figure on a snowboard is the designer's signature, IVK.
The coin's obverse (heads side) was designed by Ingrid Austlid Rise, designer at Det Norske Myntverket AS (Mint of Norway), and features a portrait of H.M. King Harald V facing right. Around the portrait is the inscription: HARALD V NORGES KONGE. At the lower left edge of the portrait is the artist's signature, IAR. Below the portrait: the year 2011 with Det Norske Myntverkets (Mint of Norway's) mintmark, the crossed pick and hammer, in the centre.