Norges Bank bicentenary, 20-krone commemorative coin 2016
The year 2016 will mark the bicentenary of the establishment of Norges Bank. To commemorate this important event in Norwegian constitutional history, Norges Bank is issuing a 20-krone special edition circulation coin on 14 June 2016. The coin is legal tender and will be issued at face value.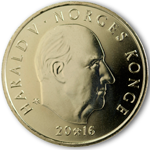 On 14 June 1816, the six pieces of legislation on Norges Bank and the monetary system were passed. The Storting (Norwegian parliament) had laid the formal foundation for the establishment of a central bank for the newborn nation of Norway. The Bank's head office was located in Trondheim, but was moved to Kristiania (Oslo) in 1897.
Norges Bank's objective is to promote economic stability in Norway. Norges Bank has executive and advisory responsibilities in the area of monetary policy and is responsible for promoting robust and efficient payment systems and financial markets. Norges Bank manages Norway's foreign exchange reserves and the Government Pension Fund Global.
Art and design students from the Oslo National Academy of Arts, the Bergen Academy of Art and Design and the Trondheim Academy of Fine Art were invited to participate in a competition on the design of the coin's reverse motif. The competition was won by Kjersti M. Austdal, a student at the Academy of Fine Art, Oslo National Academy of Arts, and her winning motif "Norgespulsen" will be featured on the coin's reverse.
Design and technical specifications
Diameter: 27.5 mm
Thickness: 2.2 mm
Weight: 9.9 g
Alloy: 81% Cu, 10% Zn, 9% Ni
Edge: Plain
Obverse (heads side):
The obverse features a portrait of H. M. King Harald V facing right. Around the portrait: HARALD V ∙ NORGES KONGE. At the lower left edge of the portrait, the artist's signature: IAR. Below the portrait: the year 2016 with the Mint of Norway's mintmark, the crossed-pick-and-hammer.
The coin's obverse was designed by Ingrid Austlid Rise, designer at the Mint of Norway.
Reverse (tails side):
The bicentenary motif "Norgespulsen" is a stylised illustration of inflation and deflation in Norway through history while also expressing Norges Bank's objective of promoting economic stability. The coin's denomination (20 KR) is placed to the right and above "Norgespulsen". Text: Norges Bank 200ÅR (Norges Bank 200 years) in two lines, is placed to the right, below the x-axis. The artist's signature (KA) is placed to the left, below the x-axis.
The motif on the reverse was designed by Kjersti M. Austdal, a student at the Academy of Fine Art, Oslo National Academy of Arts.
20-krone coins in the standard design will not be issued in 2016.