150th anniversary of the birth of Knut Hamsun silver coin 2009
This commemorative silver coin was issued to mark the 150th anniversary of Knut Hamsun's birth. Official events were organised by the National Library of Norway on behalf of the Ministry of Culture and Church Affairs.
Knut Hamsun's works hold a central place in Norwegian literature and cultural history. Hamsun is one of Norway's three literary Nobel laureates and his work has had a strong influence on both Norwegian and international literature.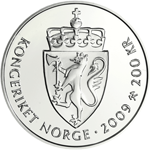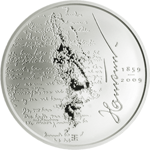 The silver coin has a nominal value of NOK 200 and was minted in an issue limited to 40 000 coins. Actual number issued was 16 300 coins. The coin, which is proof quality and legal tender, was put into circulation on 19 February 2008.
Design and technical specifications
The coin was struck at Det Norske Myntverket (Mint of Norway) with the following specifications:
Diameter: 32 mm
Weight: 16.85 g
Alloy: 925/1000 Ag (sterling silver)
Edge: Plain

The reverse of the coin, designed by Enzo Finger, features Hamsun's signature, the year of his birth and of the anniversary, a reproduction of Hamsun's notes for his novel Markens Grøde (Growth of the Soil) with the author's features partially visible through the text. The portrait is based on an etching by Horst Janssen © Horst Janssen / BONO 2009.
The coin's obverse was designed by Ingrid Austlid Rise, Det Norske Myntverket AS (Mint of Norway). It features the coat of arms of Norway with the royal crown and the surrounding inscription KONGERIKET NORGE, the year of issue and the coin's denomination, with Det Norske Myntverkets (Mint of Norway) mint mark, the crossed pick and hammer, placed between the year of issue and the coin's denomination.