Henrik Wergeland commemorative silver 200-krone coin
This commemorative silver coin was issued to mark the 200th anniversary of Henrik Wergeland's birth. The coin was part of nationwide celebrations in 2008, which were organised by the National Library, the National Archives and the Eidsvoll 1814 Foundation.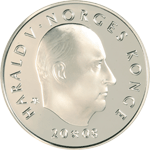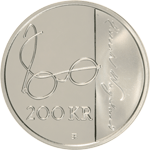 The silver coin has a nominal value of NOK 200 and was minted in an issue limited to 40 000 coins. Actual number issued was 29 646 coins. The coin, which is proof quality and legal tender, was put into circulation on 8 May 2008.
Design and technical specifications
The coin was struck at Det Norske Myntverket (Mint of Norway) with the following specifications:

Diameter: 32 mm
Weight: 16.85 g
Alloy: 925/1000 Ag (sterling silver)
Edge: Plain

The coin's reverse (tails side) depicts Wergeland's characteristic glasses and signature. A jury selected the winning design, which was created by Enzo Finger. Commenting on the design, the jury said the following:
"The design is both simple and modern. The artist has used a single symbol (Wergeland's glasses) and the poet's characteristic signature. The glasses represent Wergeland's intellect and creativity. Folded, they symbolize the past and a completion, as does the signature. The glasses are also folded in the shape of the figure "200", providing a link to the anniversary itself. The surface of the coin is divided into two sections, one of which is designed to give the illusion of a billowing sheet of paper."
The coin's obverse (heads side) was designed by Ingrid Austlid Rise, a designer at Det Norske Myntverket AS (Mint of Norway) and features a portrait of H.M. King Harald V facing right. Around the portrait is the inscription: HARALD V NORGES KONGE. At the lower left edge of the portrait is the artist's signature, IAR. Below the portrait: the year 2008 with Det Norske Myntverkets (Mint of Norway's) mintmark, the crossed pick and hammer, in the centre.