Henrik Ibsen 20-krone commemorative coin
On 16 January 2006, Norges Bank issued a 20-krone special edition circulation coin to commemorate the Ibsen year 2006. The coin is legal tender and was issued at nominal value.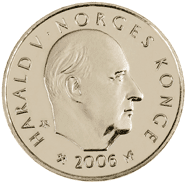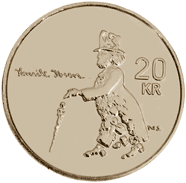 The commemoration of the Ibsen year focused on Henrik Ibsen's literature and drama and his unique position in Norway and abroad. Henrik Ibsen's plays are as topical today as they were 100 years ago. He is the most frequently performed dramatist in the world after Shakespeare.
Technical specifications:
Diameter: 27,5 mm
Thickness: 2,2 mm
Weight: 9,9 Gr
Alloy: 81% Cu, 10% Zn, 9% Ni
Edge: Plain
Distinguishing characteristics:
Obverse:
A portrait of H.M. King Harald V facing right. Around the portrait: HARALD V. NORGES KONGE (King of Norway). To the left are the initials of the artist, IAR. To the left under the portrait is the date 2006 and Det Norske Myntverket's (Mint of Norway) mintmark, the crossed pick and hammer. To the right are the initials of the Director of the Mint, Magne Flågan.
Reverse:
The reverse of the coin shows a full-length profile of Henrik Ibsen on the move. The motif is designed to connect the past and the future. To the left of the figure is an exact replica of Henrik Ibsen's signature. To the right of Ibsen is 20 and underneath KR, and the initials of the sculptress, NS, are on the lower part of the coin.
The coin's obverse was designed by Ingrid Austlid Rise, a designer at Det Norske Myntverket AS (Mint of Norway). The reverse of the coin was designed by sculptress Nina Sundbye. The coin was put into circulation on 16 January 2006. The ordinary 20-krone coin does not bear the date 2006.