100th anniversary of the first Sami congress, 20-krone commemorative coin 2017
The year 2017 marks the 100th anniversary of the first Sami congress. To mark this important milestone for the Sami people, Norges Bank will issue a 20-krone special edition circulation coin on 7 February 2017. The coin is legal tender and will be issued at face value.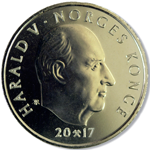 The Sami woman Elsa Laula Renberg organised the first national Sami congress in Norway. The congress was held in the Trondheim United Methodist Church 6 – 9 February 1917. It was an important event in the history of the Sami people and 6 February was subsequently designated the Sami National Day. The circulation coin will be issued in connection with the centenary celebrations "Traånte 2017" ("Tråante" is South Sami for "Trondheim").
Following input from the Sami Parliament and the Sami Artists' Union, Norges Bank invited seven artists to participate in a competition to design the centenary motif on the reverse of the coin. The winner was the artist Annelise Josefsen from Kokelv in Finnmark county and her winning motif, "Interplay", is featured on the reverse of the coin.
Design and technical specifications:
Diameter: 27.5 mm
Thickness: 2.2 mm
Weight: 9.9 g
Alloy: 81% Cu, 10% Zn, 9% Ni
Edge: Plain
Obverse (heads side):
The obverse features a portrait of HM King Harald V facing right. Around the portrait: HARALD V ∙ NORGES KONGE. At the lower left edge of the portrait, the artist's signature: IAR. Below the portrait: the year 2017 with the Mint of Norway's mintmark, the crossed-pick-and-hammer.
The coin's obverse was designed by Ingrid Austlid Rise, designer at the Mint of Norway.
Reverse (tails side):
The coin's anniversary motif, "Interplay" is meant to symbolise the interaction between forces. The symbols are drawn from Sami mythology and combined with imagery freely based on the symbols found on the Sami ceremonial drum known as the "runebomme". The coin's denomination (20 KR) is inscribed to the left. The text "TRÅANTE 1917-2017" is inscribed below and to the right of the motif, and the signature of the artist (AJ) below and to the left of the motif.
The coin's reverse was designed by the artist Annelise Josefsen.
Standard-design 20-krone coins will not be issued in 2017.