Bicentenary of the Norwegian Constitution 2014, 200-krone commemorative silver coin
2014 was the bicentenary year of the signing of the Norwegian Constitution by the Constituent Assembly at Eidsvoll. To mark the occasion, Norges Bank issued a bicentenary commemorative silver coin.
The Norwegian Constitution of 17 May 1814 laid the foundations for the development of democracy in Norway. The Norwegian Constitution has proved to be more durable than other constitutions drawn up at the same time in Europe and is today a unifying symbol of freedom, independence and democracy.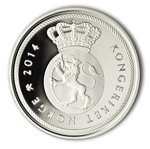 The coin has a face value of NOK 200 and was issued with a maximum mintage of 40 000 coins. The silver coin, which is proof quality and legal tender, was put into circulation on 16 February 2014.
The commemorative coin issue was a collaboration between Norges Bank and the Storting's bicentenary organising committee. The aim of the bicentenary celebration was to raise awareness of what the Constitution means today and its importance for the development of democracy in Norway, to encourage participation and involvement in democratic institutions and to be an occasion for popular celebrations throughout Norway.
Design and technical specifications
The coin was struck at Mint of Norway with the following specifications:
Diameter: 32 mm
Weight: 16.85 g
Silver content: 925/1000 Ag (sterling silver)
Edge: Plain
Obverse (heads side):
The silver coin's obverse was designed by Ingrid Austlid Rise, designer at Mint of Norway. Motif: Christian Frederik's seal of state featuring the Norwegian lion. This motif was first used on 19 May 1814, when he accepted election as King. The lion with a halberd was used on Norwegian coins through Carl Johan's reign. Inscription: KONGERIKET NORGE and issue year with the Mint of Norway's mintmark, the crossed pick and hammer. At the lower left in the crown, the artist's signature (IAR).
Reverse (tails side):
The anniversary motif on the coin's reverse was designed by the painter and illustrator Esther Maria Bjørneboe. The motif features Christian Magnus Falsen, in front and in profile, resting his gaze on successive, future generations of women, men and youth. They are portrayed in simplified profile and symbolise the Norwegian Constitution's long history and the numerous modernisations it has undergone. The coin's denomination (200 KR) is placed to the right, with the text GRUNNLOVEN 1814 – 2014 (Constitution 1814-2014) at the bottom. At the lower left on Falsen's lapel, the artist's signature (EMB).