NOK 6 billion will soon cease to be legal tender
If you have one or more of these 1000-krone banknotes, you should deposit them with your bank or use them as a means of payment by 14 November 2020.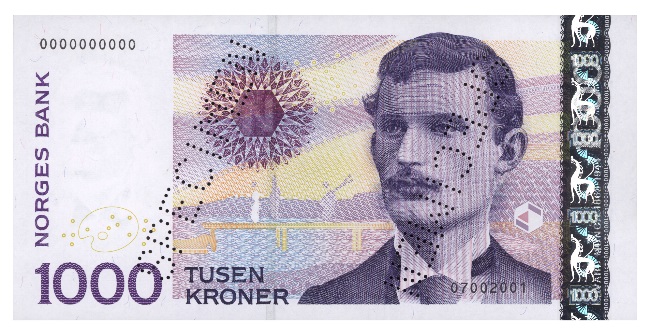 "There are close to 6 billion of the soon-to-be-withdrawn 1000-krone banknotes in circulation. With two months left until the 14 November withdrawal date, we encourage depositing the banknotes or using them as a means of payment by that time," says Leif Veggum, Director of the Norges Bank Cashier's Department.
Even though some banks and shops will continue to accept old 1000-krone banknotes also after 14 November, only Norges Bank is obliged to accept them after this date. All banks are obliged to accept banknotes for deposit into bank accounts. Contact your bank for information on where you can deposit banknotes.
Cash is safe - and legal tender
In recent months, Norges Bank has regularly received enquiries from the public asking if cash can be refused as a means of payment, whether the reason given is infection risk or other reasons. In answer to such questions, Norges Bank must refer to other public authorities.
"With regard to infection risk, the Norwegian Institute of Public Health has concluded, based on current knowledge, that there are no indications that using cash as a means of payment represents a risk of spreading Covid-19," says Veggum.
Under the Central Bank Act, Norges Bank's banknotes and coins are legal tender in Norway and under the Financial Contracts Act, a consumer is entitled in all cases to effect settlement with the recipient of the payment in legal tender, within the amount limit of NOK 40 000 set by The Money Laundering Act.
"The enforcement of the provision on consumers' right to pay cash is the responsibility of the consumer protection authorities. It is the responsibility of Norges Bank to ensure that banknotes and coins are available and that they function as intended," says Veggum.
Many expired banknotes still in circulation
As many as 26 million old 50-, 100-, 200- and 500-krone banknotes are still in circulation. These banknotes have a total face value of NOK 4.3 billion.
"I myself recently found an old 500-krone note in a chest of drawers at home, so I would like to remind people that it is a good idea to search through their drawers and cupboards. Our website, newnotes.no, contains information on how to exchange withdrawn banknotes and coins," says Veggum.