Check that the banknote is genuine
A banknote is the product of highly advanced graphic design. You should be able to see and feel that genuine banknotes are worth far more than the paper they are printed on.
In order to easily distinguish between genuine notes and counterfeits, Norwegian banknotes have many security features. Some of these are visible and others are not.
The security features intended for the public are the same on all notes, except for the anchor chain, which is not present on the 50-krone note.
100-krone note, series VIII, obverse side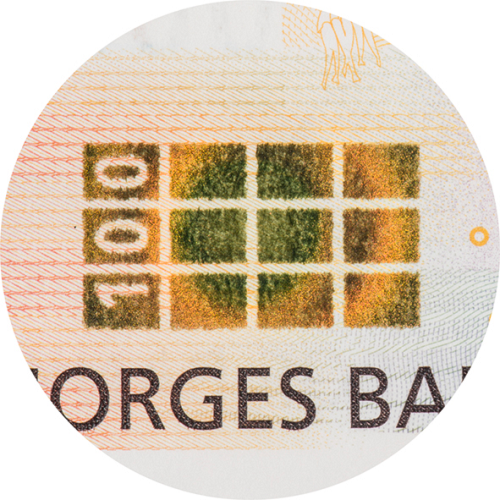 1 Floating ring
In the bottom-left corner of the note there is rectangle containing a ring. When you tilt the banknote in different directions the ring appears to float and you can see a play of colours. The denomination is also shown. See video
2 Anchor chain
On the right-hand side of the banknote, you can see three segments of an anchor chain integrated into the paper. When you tilt the note, the chain appears to move. See video
The anchor chain is present on all denominations, except the 50-krone note.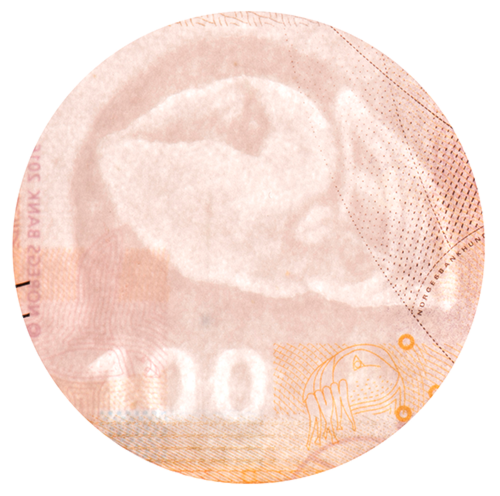 3 Watermark
When the banknote is held up to the light, the watermark, the head of an Atlantic puffin with the denomination, is visible. The Atlantic puffin motif is featured on all the denominations.
4 Security thread
When the banknote is held up to the light, the security thread is visible as a dark line running through the paper.
The new banknotes contain additional security features that will help the general public to distinguish between genuine banknotes and counterfeits: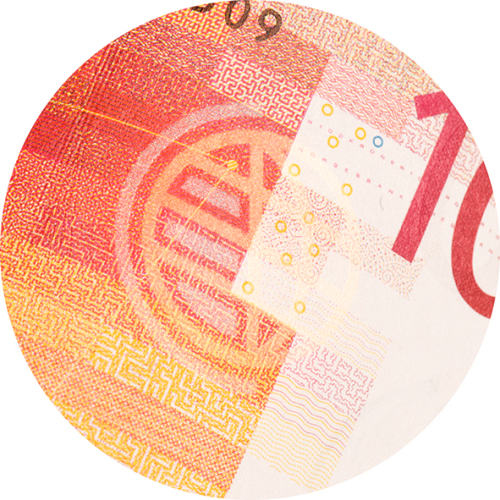 Iridescent effect
If you look at the back of the banknote at an angle, you will see a two-coloured design element printed with an iridescent effect. On the 100-krone banknote, this element is a globe and on the 200-krone banknote a seamark. The element can also be found in the lower-right corner of the banknote, printed in the denomination's main colour.
Fluorescent print
When the banknote is held under ultra-violet light, design elements appear that are otherwise invisible. Two of the features that become visible on the front of the banknote are an Atlantic puffin and the value of the note.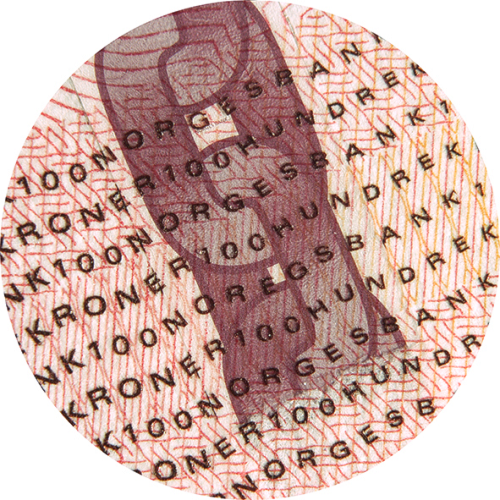 Microlettering
With the aid of a magnifying glass, you can see numerals and lettering in tiny print on some areas of the banknote.