New 50-krone note - motifs
Size in mm: 126 x 70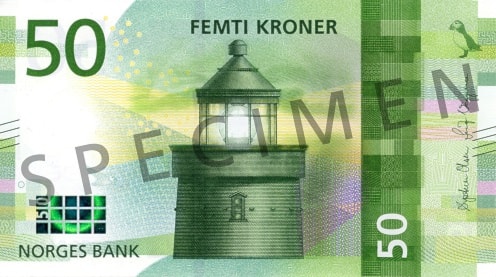 Obverse side
The primary motif on the 50-krone note is based on Utvær Lighthouse in Solund municipality. This lighthouse was built in 1900 and is Norway's westernmost point.
Sea-marks like Utvær Lighthouse have a long history in Norway. The first concrete example of a Norwegian sea-mark is from the Saga Age, when in 869, Floke Vilgerdson built a cairn in Sveio municipality that later became known as Ryvarden.
As early as 1770, Utvær was a pilot station. The pilotage service was passed down from father to son for several generations, according to the long tradition along the entire coast.
Many large lighthouses were built along the Norwegian coast, especially in the second half of the 1800s. They are highly visible and cherished landmarks.
As a traffic and transportation artery, the sea has been crucial for the development of the Norwegian economy and society. Shipping lanes remain an important part of the transportation network binding the country together and a fine-meshed net of lighthouses and sea-marks covers the entire Norwegian coast.
In the upper-right corner of the banknote you can see an Atlantic puffin. The head of a puffin and the value of the banknote are also featured in the watermark used on all the denominations.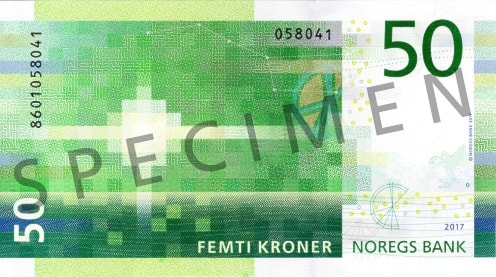 Reverse side
The pattern on the 50-krone note represents a light signal from a lighthouse. The wind is light, symbolised by the short rectangular shapes and gentle waves in the organic pattern. You can also see the constellation Ursa Major and the nautical chart symbol showing the divisions between the light sectors of a lighthouse.
A lighthouse is a sea-mark that emits light as a navigational aid at sea. Lighthouses emit light from a system of lamps and lenses, and are a part of an advanced network of sea-marks on the coast. Today, all lighthouses along the Norwegian coast are automated, but almost all of the classic lighthouses remain operational as navigational structures.
They do not stand alone. Along the entire Norwegian coast there is a fine-meshed network of over 21 000 lighthouses and sea-marks. Along with safe harbours and other maritime infrastructure, they have facilitated and secured navigation along an exposed coastline, and have been crucial for the development of communication, trade and culture.
Waves and wind are not always as calm as here on the 50-krone note. In squally weather, it is a comfort knowing that there are solid waypoints to guide our course.