The 75th birthdays of the King and Queen. NOK 200-krone commemorative silver coin issued in 2012
Their Majesties King Harald V and Queen Sonja both celebrated their 75th birthdays in 2012. To mark the occasion, Norges Bank issued a commemorative silver coin.
King Harald celebrated his 75th birthday on 21 February, and Queen Sonja celebrated her 75th birthday on 4 July. King Harald succeeded his father, King Olav V, to the throne on 17 January 1991. The King and Queen were consecrated in Nidaros Cathedral on 23 June 1991.
The King and Queen were married on 29 August 1968 in Oslo Cathedral and have two children, Princess Märtha Louise and Crown Prince Haakon.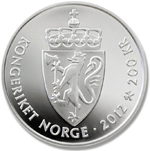 The coin has a nominal value of NOK 200 and was minted in an issue limited to 40 000 coins. The silver coin, which is proof quality and legal tender, was placed into circulation on 21 February 2012.
Design and technical specifications
The coin was struck at Det Norske Myntverket (Mint of Norway) with the following specifications:
Diameter: 32 mm
Weight: 16.85 g
Silver content: 925/1000 Ag (sterling silver)
Edge: Plain

The double portrait of the King and Queen on the coin's obverse (heads side) was created by the sculptor Håkon Anton Fagerås. Inscription: KONG HARALD V ∙ DRONNING SONJA ∙ 75 ÅR. Under the portrait of the King is the artist's signature, HAF.
The silver coin's reverse (tails side) was designed by Ingrid Austlid Rise, designer at Det Norske Myntverket AS (Mint of Norway). Motif: The coat of arms of Norway with the royal crown. Inscription: KONGERIKET NORGE, issue year and denomination. The crossed-pick-and-hammer mintmark of the Royal Norwegian Mint (now Mint of Norway) is flanked by the issue year and denomination.