Commemorative coin to mark Supreme Court bicentenary
Norges Bank is issuing a 20-krone special edition circulation coin in 2015 to mark the bicentenary of the inception of the Supreme Court of Norway.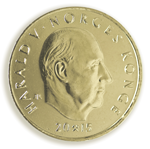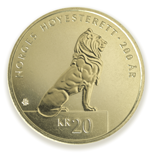 The coin will be issued on 7 May and will circulate as an ordinary coin used for payment. The coin has the same format as the ordinary 20-krone coin and is legal tender.
The anniversary motif was designed by the painter and graphic artist Christopher Rådlund and is a reproduction of one of the two lion sculptures flanking the main stairway in the Supreme Court's entrance hall. The sculptures were modelled by Lars Utne (1862-1922) and cast in brass. The lion motif is also a recurring theme in the Supreme Court building.
As has been the case with special edition circulation coins in recent years, a portrait of the King will be used as the obverse motif. The motif was designed by Ingrid Austlid Rise, designer at Mint of Norway.