Commemorative silver coin to celebrate the birthdays of King Harald and Queen Sonja
Their Majesties Kong Harald V and Queen Sonja both celebrate their 75th birthdays in 2012. To mark the occasion, Norges Bank will issue a commemorative silver coin on the King's birthday, 21 February. Queen Sonja celebrates her 75th birthday on 4 July.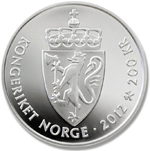 "Norges Bank wishes to mark the occasion of the 75th birthdays of the King and Queen by issuing a silver commemorative coin", says Adviser Svein Nygård of the Cashier's Department. "In our view, the double portrait of the King and Queen forms a balanced and harmonious image."
A competition was launched for the design of the coin's obverse (heads side). The winning design was created by the sculptor Håkon Anton Fagerås. The coat of arms on the coin's reverse (tails side) was designed by Ingrid Austlid Rise, designer at Det Norske Myntverket AS (Mint of Norway).
The silver coin has a nominal value of NOK 200 and will be minted in an issue limited to 40 000 coins. The coin's retail price excluding postage and packing is NOK 475. The coin can be ordered from Norges Bank's online shop: www.norges-bank.no/myntsalg/.
It has been decided that any profits from the sale of this commemorative coin will be used for the benefit of the general public. The two charities that will each receive 50% of the profits are The Crown Prince and Crown Princess' Humanitarian Fund and Princess Märtha Louise's Fund.
For photos and a description of this commemorative silver coin, see the Bank's website.