Norges Bank building
The head office of Norges Bank is located on Bankplassen in the Kvadraturen section of central Oslo.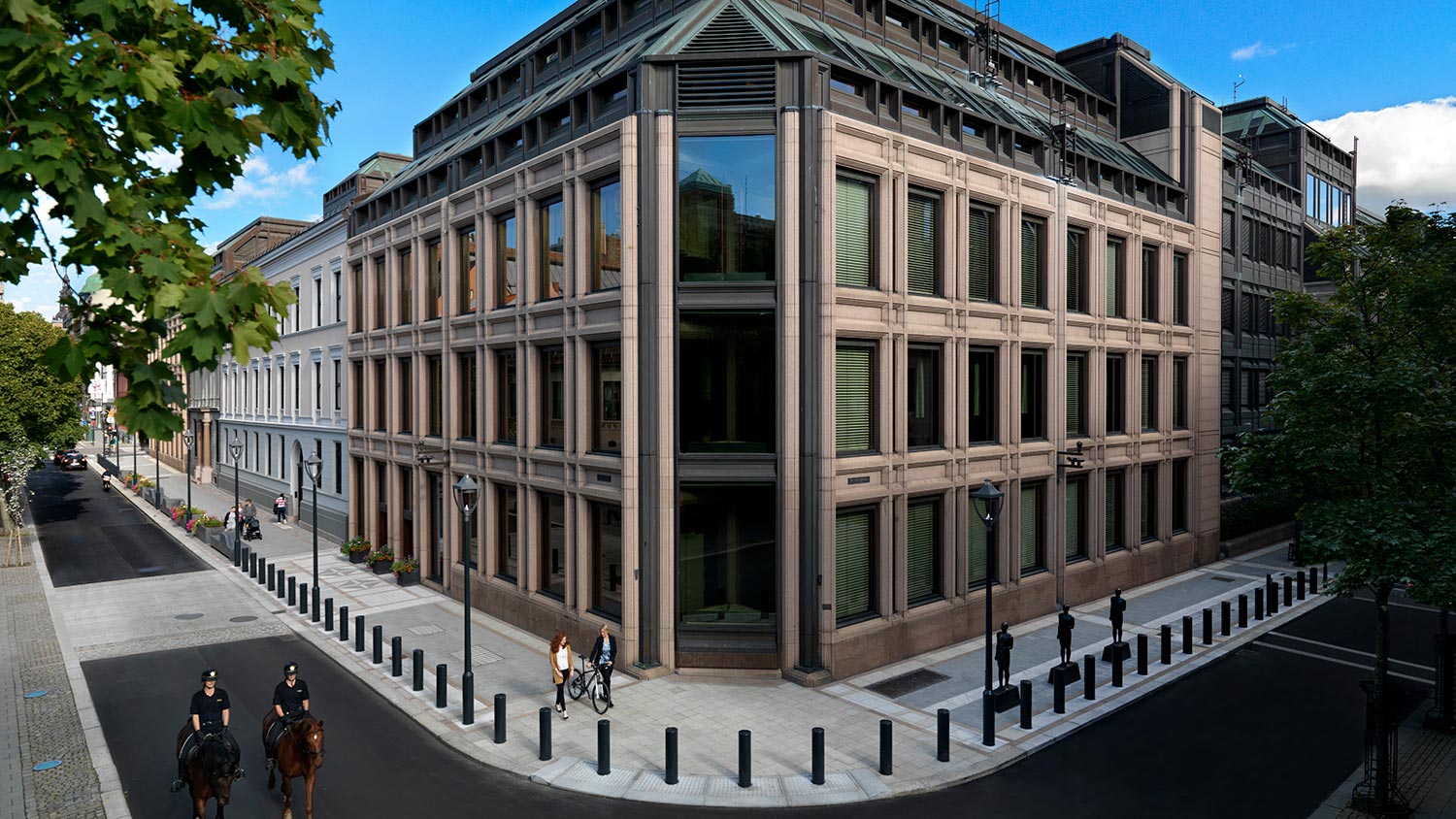 Norges Bank's Head Office, Oslo (Photo: Esten Borgos)
The building was designed by architects Kjell Lund and Nils Slaatto, MNAL, who won the open architectural competition in 1973. The building was dedicated on 13 October 1986.
Norges Bank's head office is approximately 60 000 square metres, and consists of a seven-storey core, surrounded by a four- and five-storey square perimeter structure. The entire building occupies an entire city block, surrounded by Rådhusgata, Dronningens gate, Revierstredet and Kirkegata.
Materials
Pink Røyken granite, copper and glass dominate the Bank's façade. White Støren granite, dark Hauge granite and Carrara marble are used as the primary material in stairwells and corridor zones. Beech and white laminate are used in offices as a contrast with the stark marble stairwells. Inside, the copper is replaced by brass, which is supplemented with steel. Concrete columns are visible throughout the interior. The interplay of materials creates contrasts between hot and cold, while marking the different zones in the building.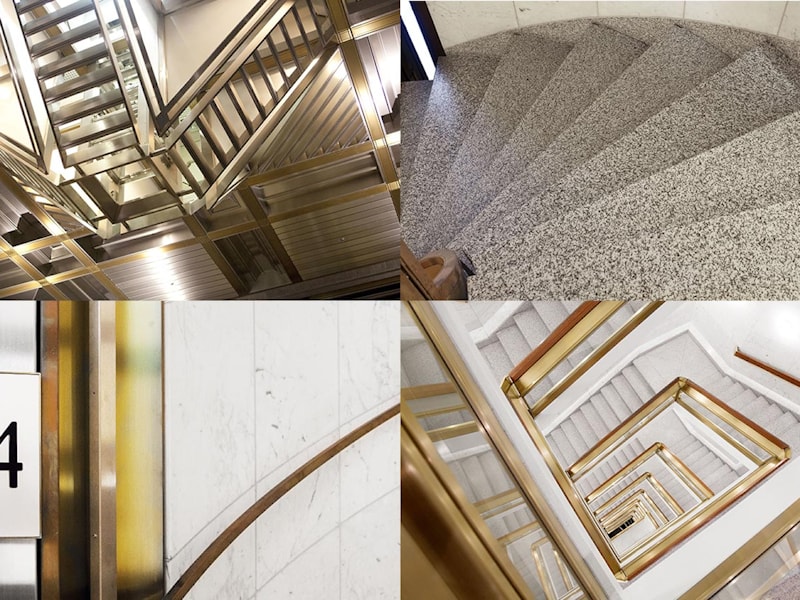 Granite, marble, brass, concrete and steel dominate the interior. (Photo: Espen Schive)
An example of structuralism
The building typifies the architectural style known as structuralism, in which components are assembled according to a predetermined structure or pattern. Such a pattern appears throughout the building and is also reflected outdoors on Bankplassen.
Characteristic of the building's design is a structure based on a 90 cm x 90 cm module. These modules can be assembled into larger units to form a systematic, yet varied interior (90 cm, 180 cm, 270 cm, 360 cm, etc, on one side). These squares are always bordered by 15 cm strips.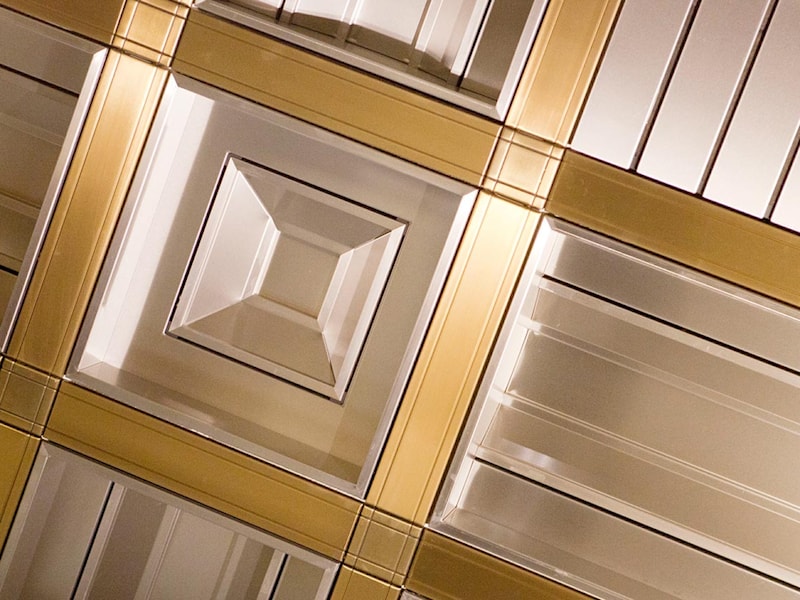 Ceiling with 90 cm x 90 cm module and 15 cm border. (Photo: Espen Schive)
In addition to the modular structure, the octagonal form was adopted for functional reasons. For example, the octagon is used for column sections, and when four columns are placed together, to accommodate ventilation ducts. The octagon is reflected in bearing columns, lifts, floors, stone paving, garden fountains, flower pots and the fountain on Bankplassen.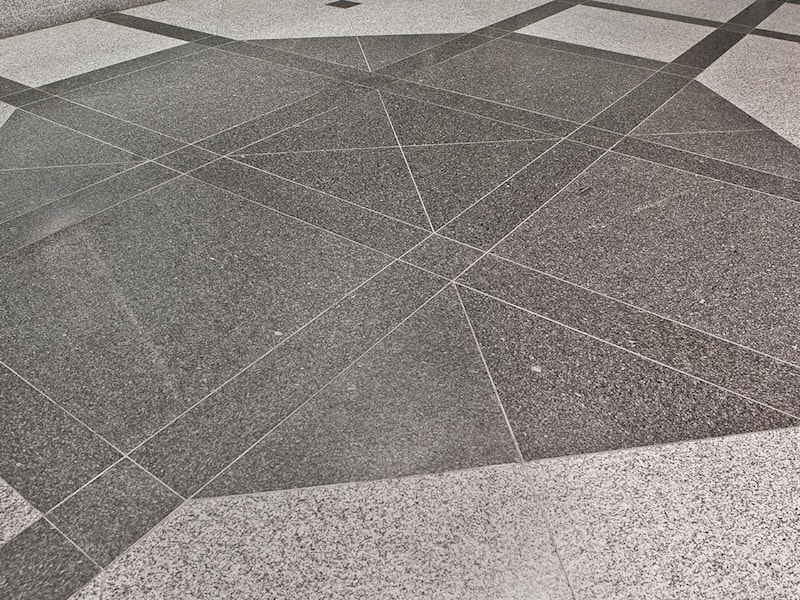 Like the square, the octagon occurs throughout the building. (Photo: Espen Schive)
Along with the modular structure, that is the square, the octagon creates variety and gives rise to a leitmotif – a molecular structure – that is the building's signature.
Older structures
Rådhusgata 10, 12 and 14 and Kirkegata 6 were purchased and restored as part of the construction of the new building and are integral parts of the Bank. The buildings in Rådhusgata date from the 1600s, after the fire in 1624, but were subsequently renovated many times. Kirkegata 6 was originally built for the banker Andresen and housed both Andresens Bank and the banker's private residence. All four buildings are listed, and restoration work was done in collaboration with national and local cultural heritage offices.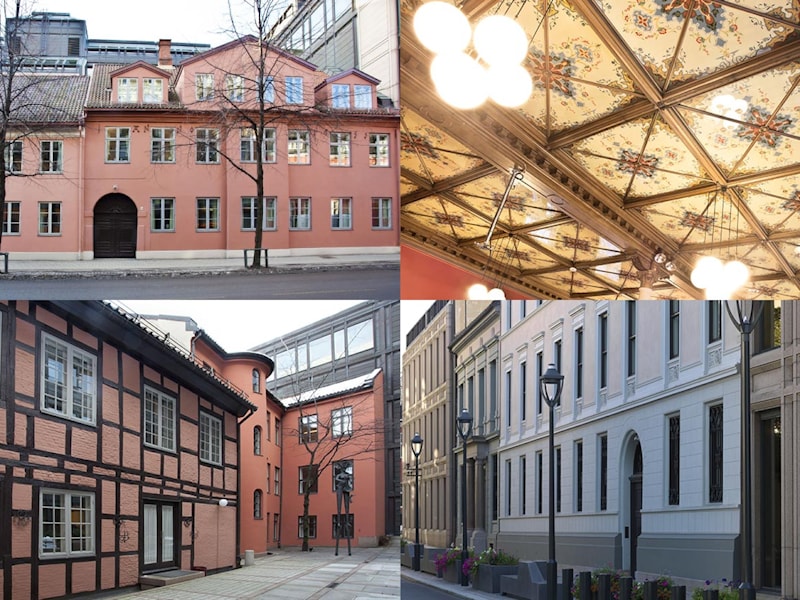 The buildings in Rådhusgata (at left) now contain offices and reception facilities. Kirkegata 6 (at right) originally housed Andresens Bank. The bank lobby with its ornate ceiling was used for a time as the press room, but now houses the Norges Bank Education Centre. (Photos: Espen Schive and Esten Borgos)