Commemorative coin to mark the 150th anniversary of Gustav Vigeland's birth
Today, Norges Bank is issuing a special edition 20-krone circulation coin to commemorate the sesquicentenary of Gustav Vigeland's birth.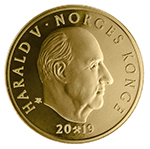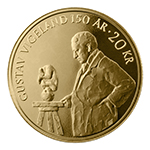 The anniversary motif "At work" is designed by the artist Håkon Anton Fagerås. The motif shows Vigeland by his stand while contemplating the sculpture "The Foetus" during modelling.
As on earlier special edition circulation coins, the obverse side features a portrait of H. M. King Harald V, created by Ingrid Austlid Rise, designer at the Mint of Norway.
The launch of the commemorative coin will take place in conjunction with the opening of the Vigeland 150th anniversary at Oslo City Hall today.