Commemorative coin to mark the 100th anniversary of the first Sami congress
Today, Norges Bank issued a 20-krone special edition circulation coin to mark the centenary of the first Sami congress.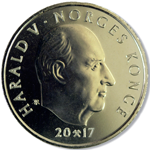 The coin's centenary motif, "Interplay", was designed by artist Annelise Josefsen and is meant to symbolise the interaction between forces. The symbols are drawn from Sami mythology and combined with imagery freely based on the symbols found on the Sami ceremonial drum known as the "runebomme".
The obverse of the coin features the portrait of HM King Harald V, as shown on other special edition circulation coins in recent years, and was designed by Ingrid Austlid Rise at Det Norske Myntverket AS (Mint of Norway).
The centenary coin will be launched today at 11 am in connection with "Tråante 2017" in Trondheim, a programme of events to celebrate the centenary ("Tråante" is South Sami for "Trondheim"). Tråante 2017 is a joint collaboration between the Sami Parliament, Sør-Trøndelag county, Nord-Trøndelag county and Trondheim municipality.