Norges Bank commemorates Constitution bicentenary
This year, 2014, is the bicentenary year of the signing of the Norwegian Constitution. To mark this important event in Norway's history, Norges Bank is issuing two commemorative coins on 16 February 2014.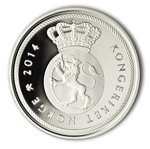 200-krone silver coin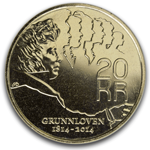 Special edition 20-krone circulation coin
The bicentenary of the Norwegian Constitution will be marked by a number of events aimed at raising awareness of what the Constitution means today and its importance for the development of democracy in Norway. "Norges Bank is marking the bicentenary by issuing a special edition 20-krone circulation coin and a commemorative silver coin with a face value of NOK 200," says Trond Eklund, Director of Norges Bank's Cashier's Department
The anniversary motif appearing on both commemorative coins was designed by the painter and illustrator Esther Maria Bjørneboe. She has given her design the following motto "The father of the Constitution and democracy". It features Christian Magnus Falsen, in front and in profile, resting his gaze on successive, future generations of women, men and youth. They are portrayed in simplified profile and symbolise the Norwegian Constitution's long history and the numerous modernisations it has undergone.
The commemorative coin issues are a collaboration between Norges Bank and the Storting's bicentenary organising committee. The official opening of bicentenary festivities will take place at an event open to the public in the park next to the Eidsvoll building on Sunday, 16 February. At this event, the new special edition 20-krone coin will be available for purchase at face value.
The special edition 20-krone coin will be issued as an ordinary circulation coin. The silver coin will be issued with a maximum mintage of 40 000 coins and will be available for purchase directly from Norges Bank. The sale price, excluding handling and postage, is NOK 475 per coin.