Norges Bank marks 100th anniversary of universal suffrage
Norges Bank will issue a 10-krone special edition circulation coin to mark the 100th anniversary of universal suffrage in 2013. The coin will be put into circulation on International Women's Day, 8 March.
"In June 2013, it will be 100 years since the Norwegian parliament decided to introduce universal suffrage and women gained the right to vote on an equal footing with men. This is an event we wish to commemorate", says Leif Veggum, Acting Director of the Cashier's Department. He adds that the motif on the 10-krone coin symbolises the protracted, difficult struggle to achieve women's suffrage.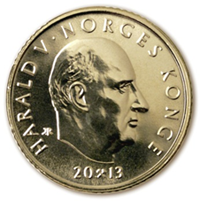 The coin's obverse features the portrait of H.M. King Harald V designed by Ingrid Austlid Rise, designer at Det Norske Myntverket AS (Mint of Norway). This motif has been featured on all special edition circulation coins in recent years.
A competition was held for the design of the coin's reverse. The winning motif with the motto "Joining forces" was designed by illustrator and graphic designer Siri Dokken. The left side of the coin features four female figures with their arms outstretched pushing against the edge of a surface making up the other half of the coin. Commenting on her motif, Dokken says that democracy is a bottom-up movement and that to vote is to join forces to move something together, to create change, move axes and centres of gravity.
This commemorative coin will be in the same format as the ordinary 10-krone coin and will be legal tender.
The Suffrage Centenary is already underway and is being celebrated locally, nationally and internationally. Norges Bank is cooperating with the Suffrage Centenary Committee appointed by the government to organise the celebrations. The centenary celebrations will be officially launched in the form of a gala performance on 8 March at Kilden Performing Arts Centre in Kristiansand. To mark the coin's launch, Norges Bank will have a stand at the event where the coin will be displayed and where guests and the general public will be able to trade their loose change for this special edition circulation coin.