Redemption of old 5-krone coins
Do you have any unholed 5-krone coins produced before 1998? Almost 40 million of these coins are still in circulation. The final date for redeeming the coins is 31 December 2010.
"Check through your drawers and cupboards," suggests Trond Eklund, Director of Norges Bank's Cashier's Department.
Unholed 5-krone coins were issued up until 2007. Norges Bank's obligation to redeem these coins ceases on 31 December 2010. This deadline also applies to 5-krone commemorative coins issued in the period between 1975 and 1997.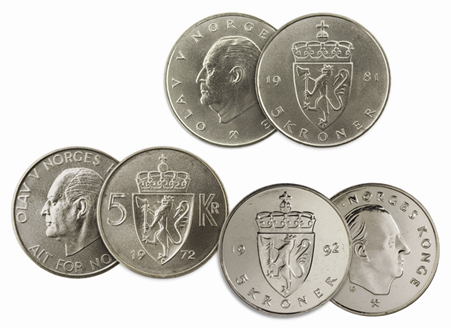 The coins can be redeemed at the following locations:
Subject to special application, Norges Bank may redeem the coins after the deadline has expired. If so, a small charge will generally apply.
Further information on the final dates for the redemption of old coins and banknotes can be found on our website or by contacting Norges Bank on 22 31 60 00.