The 250th anniversary of Hans Nielsen Hauge's birth is being marked by a commemorative coin
On 3 April, Norges Bank will issue a special edition 20-krone circulation coin to mark that 250 years have passed since the lay pastor and social reformer Hans Nielsen Hauge was born.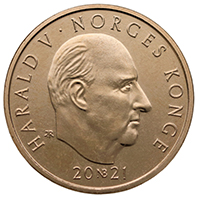 Photo: Håkon Anton Fagerås
The anniversary motif "15 000km" is designed by the visual artist Håkon Anton Fagerås. The motif shows Hauge wandering while reading. Over several years, he wandered on foot across much of the country, preaching and forming friendship societies. Hauge and the movement he created have been of great importance for the political and economic modernisation of Norway.
The obverse motif on the coin shows the portrait of HM King Harald V, as on previous special edition issues in recent years. The motif was designed by Ingrid Austlid Rise, designer at the Mint of Norway.
The commemorative coin will be launched on the anniversary date of Hauge's birth on 3 April.