50-krone note - security features
Security features - non-upgraded 50-krone note (1996-2002)
Images of 50-krone notes Series VII
All banknotes in Series VII were printed in intaglio on cotton paper.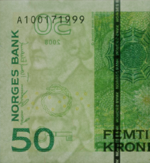 Watermark and security thread (on upgraded notes, annual figures from 2003-)
When the banknote is held up to the light, the watermark, a portrait of Peter Christen Asbjørnsen, and the security thread are clearly visible. The watermark, which consists of a row of portraits identical to the main portrait, emerges in various shades of grey-green. On the new banknotes, you can feel a variation in the thickness of the paper along the watermark. When the banknote is held up to the light, you can see the security thread where the text, NORGES BANK.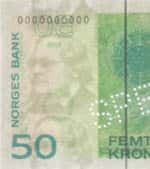 Notes with annual figures from 2008 have a letter in front of the serial number to the top left.
On notes that have not been upgraded (annual figures 1996-2002), the security thread is also visible when the notes are held up to the light, but the thread is thinner and there is no text.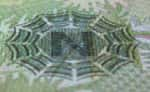 Rosette with a hidden "N" and microlettering
If you study the banknote very carefully, you will also discover microlettering, and in the rosette, the letter "N" will emerge when the banknote is help up to the light at an angle. Microlettering appears on the front and reverse of the banknote.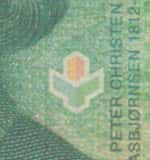 Register mark
There is a register mark beneath the rosette. When the banknote is held up to the light, the non-coloured portion of the register mark on the obverse is filled by the coloured portion of the symmetrical mark on the reverse, thus forming a complete register mark.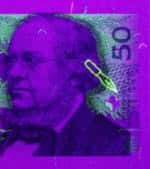 Fluorescent print
When the banknote is exposed to ultraviolet light, part of the print as well as small fibres in the paper become fluorescent.
There is an invisible nib superimposed over the portrait. It fluoresces when the note is exposed to ultraviolet light.