50-krone notes Series VII
The images below show 50-krone notes from Series VII (from 1996).
See more information about the security features.
50-krone note – non-upgraded (1996-2002)
The security thread in the non-upgraded note can be seen as a dark thread when the note is held up to the light. The thread is thinner than the security thread on the upgraded note and there is no text. There are no yellow circles next to the ring of willow twine on the left-hand side of the obverse, i.e. the side of the note bearing the portrait of Peter Christen Asbjørnsen.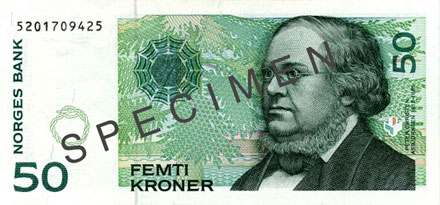 Notes with annual figures from 2003
These have been upgraded with a broader security thread and with the text "Norges Bank".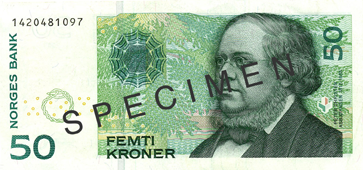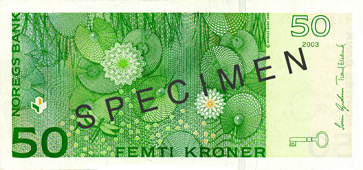 Notes with annual figures from 2008 (printed abroad).
The serial number on the new notes has a letter before the number (top left). Otherwise the note is identical to the upgraded note with annual figures from 2003.