10-krone coin to commemorate the bicentenary of Norway's first university
This year is the bicentenary of the founding of Norway's first university. To mark the event, Norges Bank will issue a special edition 10-krone circulation coin on Tuesday, 3 May.
"The emphasis is on the fact that the occasion is not geographically limited to Oslo but commemorates the beginnings of higher education and science and scholarship in a broad sense," says Trond Eklund, Director of the Cashier's Department at Norges Bank, noting that Norway now has eight universities and that all parts of the country offer university-level education.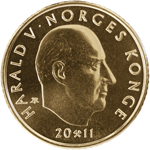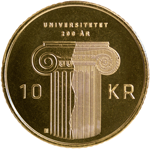 The obverse of the 10-krone coin features the portrait of H.M. King Harald V used on special edition circulation coins issued in recent years. The portrait was created by Ingrid Austlid Rise, designer at Det Norske Myntverket (Mint of Norway).
A competition was held to design the coin's reverse. The winning design is by Enzo Finger and features a Greek Ionic column, a classic – as well as classical – university symbol. The column is depicted as a composite of two elements. The right half is a classic, naturalistic interpretation, while the left half shows the column in a more modernised form. Together the two elements are intended to express the span of time.
The commemorative coin has the same size as the standard 10-krone coin and will be legal tender.
Norges Bank's commemorative coin issue is part of the bicentenary celebrations in 2011 coordinated by UiO 200, a project group established for this purpose by the University of Oslo. To mark the university coin's first day of issue, the University of Oslo is hosting an event at the University's Coin Cabinet with Governor Øystein Olsen and all the rectors of Norwegian universities as guests of honour.